About Us
Al-Amin is a Indian takeaway in London. Why don't you try our Tikka Masala or Dopiaza?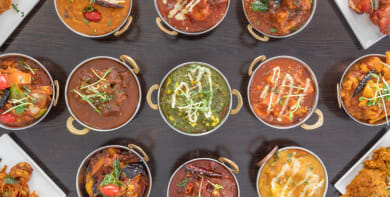 Reviews
68 reviews
Dean
"Lovely ❤️"
23/07/2020
melanie
"Curries all tasted a little samey but nice overall"
11/07/2020
Jamie
"The best curry in London. Never disappoints!"
21/06/2020
EDWARD
"Fantastic meal - these guys are the best in the area"
13/06/2020
Menu
King Prawn Puri
King prawn cooked in medium sauce served with a puri
Medium
£5.00
King Prawn Butter Fried
King prawn, covered in egg, breadcrumb, then deep fried
Mild
£5.00
Tandoori Chicken Wings
Medium
£4.00
Tandoori Lamb Chops
Medium
£5.30
Quarter Tandoori Chicken
Medium
£3.40
Seekh Kebab
Topped with omelette
Medium
£3.40
Shami Kebab
Topped with omelette
Medium
£3.40
Mirch Chana
Chickpeas
Spicy
£3.40
Prawn Puri
Prawns cooked in medium sauce served with a puri
Medium
£4.00
Chicken Chaat
Cooked in a spicy sour sauce with cucumber, served with a green salad
Spicy
£4.00
Aloo Bora
Mashed potato stuffed with mint & ginger, covered egg in & breadcrumb, then deep fried
Mild
£4.00
Special Rice
With egg or keema
£3.50
Vegetarian Rice Vegetable
With:
£3.50
Vegetarian Rice Mushroom
With:
£3.50
Vegetarian Rice Peas
With:
£3.50
Vegetarian Rice Onion
With:
£3.50
Vegetarian Rice Garlic
With:
£3.50
Vegetarian Rice Coconut
With:
£3.50
Vegetarian Rice Lemon
With:
£3.50
Vegetarian Naan Vegetable
With:
£2.50
Vegetarian Naan Peshwari
With:
£2.50
Vegetarian Naan Cheese
With:
£2.50
Vegetarian Naan Garlic
With:
£2.50
Vegetarian Naan Chilli
With:
£2.50
Stuffed Paratha Vegetable
With:
£2.20
Stuffed Paratha Keema
With:
£2.20
Stuffed Paratha Aloo
With:
£2.20
Poppadoms (2) Fried Plain Crisps
Fried plain or masala crisps complimented with a mango chutney
£2.00
Poppadoms (2) Masala Crisps
Fried plain or masala crisps complimented with a mango chutney
£2.00
Dahi Ki Chutney Plain Raita
£2.20
Dahi Ki Chutney Cucumber Raita
£2.20
Dahi Ki Chutney Tomato Raita
£2.20
Dahi Ki Chutney Onion Raita
£2.20
Selection of Dips
Mango Chutney, Lime Pickle, Chilli pickle, Onion Salad & Mint Sauce
£1.00
Al-Amin Balti Sauce
Spicy
£2.70
Pistachio Masala Sauce
Spicy
£2.70
Korma Chicken
Mild, sweet dish cooked with cream, coconut powder & raisins
Mild
£7.50
Korma Chicken Tikka
Mild, sweet dish cooked with cream, coconut powder & raisins
Mild
£8.50
Korma Tandoori Chicken
Mild, sweet dish cooked with cream, coconut powder & raisins
Mild
£7.50
Korma Chicken Wings
Mild, sweet dish cooked with cream, coconut powder & raisins
Mild
£9.00
Korma Paneer
Mild, sweet dish cooked with cream, coconut powder & raisins
Mild
£7.50
Korma Paneer Tikka
Mild, sweet dish cooked with cream, coconut powder & raisins
Mild
£8.50
Korma Lamb
Mild, sweet dish cooked with cream, coconut powder & raisins
Mild
£7.50
Korma Lamb Tikka
Mild, sweet dish cooked with cream, coconut powder & raisins
Mild
£8.50
Korma Tandoori Lamb Chops
Mild, sweet dish cooked with cream, coconut powder & raisins
Mild
£10.50
Korma Mixed Vegetable
Mild, sweet dish cooked with cream, coconut powder & raisins
Mild
£6.00
Korma Specific Vegetable
Mild, sweet dish cooked with cream, coconut powder & raisins
Mild
£6.00
Korma Fish Tikka
Mild, sweet dish cooked with cream, coconut powder & raisins
Mild
£12.00
Korma Prawn
Mild, sweet dish cooked with cream, coconut powder & raisins
Mild
£7.50
Korma King Prawn
Mild, sweet dish cooked with cream, coconut powder & raisins
Mild
£11.50
Korma Tandoori King Prawn
Mild, sweet dish cooked with cream, coconut powder & raisins
Mild
£13.00
Masala Chicken Tikka
Mild curry cooked with cream & coconut powder topped with nuts & almonds
Mild
£8.50
Masala Tandoori Chicken
Mild curry cooked with cream & coconut powder topped with nuts & almonds
Mild
£7.50
Masala Chicken Wings
Mild curry cooked with cream & coconut powder topped with nuts & almonds
Mild
£9.00
Masala Paneer Tikka
Mild curry cooked with cream & coconut powder topped with nuts & almonds
Mild
£8.50
Masala Lamb Tikka
Mild curry cooked with cream & coconut powder topped with nuts & almonds
Mild
£8.50
Masala Tandoori Lamb Chops
Mild curry cooked with cream & coconut powder topped with nuts & almonds
Mild
£10.50
Masala Mixed Vegetable
Mild curry cooked with cream & coconut powder topped with nuts & almonds
Mild
£6.00
Masala Specific Vegetable
Mild curry cooked with cream & coconut powder topped with nuts & almonds
Mild
£6.00
Masala Fish Tikka
Mild curry cooked with cream & coconut powder topped with nuts & almonds
Mild
£12.00
Masala Prawn
Mild curry cooked with cream & coconut powder topped with nuts & almonds
Mild
£7.50
Masala King Prawn
Mild curry cooked with cream & coconut powder topped with nuts & almonds
Mild
£11.50
Masala Tandoori King Prawn
Mild curry cooked with cream & coconut powder topped with nuts & almonds
Mild
£13.00
Pasanda Chicken Tikka
Mild curry cooked with cream & pistachio nuts
Mild
£8.50
Pasanda Tandoori Chicken
Mild curry cooked with cream & pistachio nuts
Mild
£7.50
Pasanda Chicken Wings
Mild curry cooked with cream & pistachio nuts
Mild
£9.00
Pasanda Paneer Tikka
Mild curry cooked with cream & pistachio nuts
Mild
£8.50
Pasanda Lamb Tikka
Mild curry cooked with cream & pistachio nuts
Mild
£8.50
Pasanda Tandoori Lamb Chops
Mild curry cooked with cream & pistachio nuts
Mild
£10.50
Pasanda Mixed Vegetable
Mild curry cooked with cream & pistachio nuts
Mild
£6.00
Pasanda Specific Vegetable
Mild curry cooked with cream & pistachio nuts
Mild
£6.00
Pasanda Fish Tikka
Mild curry cooked with cream & pistachio nuts
Mild
£12.00
Pasanda Prawn
Mild curry cooked with cream & pistachio nuts
Mild
£7.50
Pasanda King Prawn
Mild curry cooked with cream & pistachio nuts
Mild
£11.50
Pasanda Tandoori King Prawn
Mild curry cooked with cream & pistachio nuts
Mild
£13.00
Mughlai Chicken
Cooked with cream, pineapple, lychee, raisins & almonds, topped with an omelette
Mild
£7.50
Mughlai Chicken Tikka
Cooked with cream, pineapple, lychee, raisins & almonds, topped with an omelette
Mild
£8.50
Mughlai Tandoori Chicken
Cooked with cream, pineapple, lychee, raisins & almonds, topped with an omelette
Mild
£7.50
Mughlai Chicken Wings
Cooked with cream, pineapple, lychee, raisins & almonds, topped with an omelette
Mild
£9.00
Mughlai Paneer
Cooked with cream, pineapple, lychee, raisins & almonds, topped with an omelette
Mild
£7.50
Mughlai Paneer Tikka
Cooked with cream, pineapple, lychee, raisins & almonds, topped with an omelette
Mild
£8.50
Mughlai Lamb
Cooked with cream, pineapple, lychee, raisins & almonds, topped with an omelette
Mild
£7.50
Mughlai Lamb Tikka
Cooked with cream, pineapple, lychee, raisins & almonds, topped with an omelette
Mild
£8.50
Mughlai Tandoori Lamb Chops
Cooked with cream, pineapple, lychee, raisins & almonds, topped with an omelette
Mild
£10.50
Mughlai Mixed Vegetable
Cooked with cream, pineapple, lychee, raisins & almonds, topped with an omelette
Mild
£6.00
Mughlai Specific Vegetable
Cooked with cream, pineapple, lychee, raisins & almonds, topped with an omelette
Mild
£6.00
Mughlai Fish Tikka
Cooked with cream, pineapple, lychee, raisins & almonds, topped with an omelette
Mild
£12.00
Mughlai Prawn
Cooked with cream, pineapple, lychee, raisins & almonds, topped with an omelette
Mild
£7.50
Mughlai King Prawn
Cooked with cream, pineapple, lychee, raisins & almonds, topped with an omelette
Mild
£11.50
Mughlai Tandoori King Prawn
Cooked with cream, pineapple, lychee, raisins & almonds, topped with an omelette
Mild
£13.00
Kashmiri Chicken
Mild curry cooked in a thick sauce, topped with a slice of banana
Mild
£7.50
Kashmiri Chicken Tikka
Mild curry cooked in a thick sauce, topped with a slice of banana
Mild
£8.50
Kashmiri Tandoori Chicken
Mild curry cooked in a thick sauce, topped with a slice of banana
Mild
£7.50
Kashmiri Chicken Wings
Mild curry cooked in a thick sauce, topped with a slice of banana
Mild
£9.00
Kashmiri Paneer
Mild curry cooked in a thick sauce, topped with a slice of banana
Mild
£7.50
Kashmiri Paneer Tikka
Mild curry cooked in a thick sauce, topped with a slice of banana
Mild
£8.50
Kashmiri Lamb
Mild curry cooked in a thick sauce, topped with a slice of banana
Mild
£7.50
Kashmiri Lamb Tikka
Mild curry cooked in a thick sauce, topped with a slice of banana
Mild
£8.50
Kashmiri Tandoori Lamb Chops
Mild curry cooked in a thick sauce, topped with a slice of banana
Mild
£10.50
Kashmiri Mixed Vegetable
Mild curry cooked in a thick sauce, topped with a slice of banana
Mild
£6.00
Kashmiri Specific Vegetable
Mild curry cooked in a thick sauce, topped with a slice of banana
Mild
£6.00
Kashmiri Fish Tikka
Mild curry cooked in a thick sauce, topped with a slice of banana
Mild
£12.00
Kashmiri Prawn
Mild curry cooked in a thick sauce, topped with a slice of banana
Mild
£7.50
Kashmiri King Prawn
Mild curry cooked in a thick sauce, topped with a slice of banana
Mild
£11.50
Kashmiri Tandoori King Prawn
Mild curry cooked in a thick sauce, topped with a slice of banana
Mild
£13.00
Bhuna Chicken
Medium spiced, thick burry
Medium
£7.50
Bhuna Chicken Tikka
Medium spiced, thick burry
Medium
£8.50
Bhuna Tandoori Chicken
Medium spiced, thick burry
Medium
£7.50
Bhuna Chicken Wings
Medium spiced, thick burry
Medium
£9.00
Bhuna Paneer
Medium spiced, thick burry
Medium
£7.50
Bhuna Paneer Tikka
Medium spiced, thick burry
Medium
£8.50
Bhuna Lamb
Medium spiced, thick burry
Medium
£7.50
Bhuna Lamb Tikka
Medium spiced, thick burry
Medium
£8.50
Bhuna Tandoori Lamb Chops
Medium spiced, thick burry
Medium
£10.50
Bhuna Mixed Vegetable
Medium spiced, thick burry
Medium
£6.00
Bhuna Specific Vegetable
Medium spiced, thick burry
Medium
£6.00
Bhuna Fish Tikka
Medium spiced, thick burry
Medium
£12.00
Bhuna Prawn
Medium spiced, thick burry
Medium
£7.50
Bhuna King Prawn
Medium spiced, thick burry
Medium
£11.50
Bhuna Tandoori King Prawn
Medium spiced, thick burry
Medium
£13.00
Korai Chicken
Medium spiced, thick curry cooked with green peppers & onions
Medium
£7.50
Korai Chicken Tikka
Medium spiced, thick curry cooked with green peppers & onions
Medium
£8.50
Korai Tandoori Chicken
Medium spiced, thick curry cooked with green peppers & onions
Medium
£7.50
Korai Chicken Wings
Medium spiced, thick curry cooked with green peppers & onions
Medium
£9.00
Korai Paneer
Medium spiced, thick curry cooked with green peppers & onions
Medium
£7.50
Korai Paneer Tikka
Medium spiced, thick curry cooked with green peppers & onions
Medium
£8.50
Korai Lamb
Medium spiced, thick curry cooked with green peppers & onions
Medium
£7.50
Korai Lamb Tikka
Medium spiced, thick curry cooked with green peppers & onions
Medium
£8.50
Korai Tandoori Lamb Chops
Medium spiced, thick curry cooked with green peppers & onions
Medium
£10.50
Korai Mixed Vegetable
Medium spiced, thick curry cooked with green peppers & onions
Medium
£6.00
Korai Specific Vegetable
Medium spiced, thick curry cooked with green peppers & onions
Medium
£6.00
Korai Fish Tikka
Medium spiced, thick curry cooked with green peppers & onions
Medium
£12.00
Korai Prawn
Medium spiced, thick curry cooked with green peppers & onions
Medium
£7.50
Korai King Prawn
Medium spiced, thick curry cooked with green peppers & onions
Medium
£11.50
Korai Tandoori King Prawn
Medium spiced, thick curry cooked with green peppers & onions
Medium
£13.00
Methi Chicken
Medium spiced, thick curry cooked with fenugreek leaves
Medium
£7.50
Methi Chicken Tikka
Medium spiced, thick curry cooked with fenugreek leaves
Medium
£8.50
Methi Tandoori Chicken
Medium spiced, thick curry cooked with fenugreek leaves
Medium
£7.50
Methi Chicken Wings
Medium spiced, thick curry cooked with fenugreek leaves
Medium
£9.00
Methi Paneer
Medium spiced, thick curry cooked with fenugreek leaves
Medium
£7.50
Methi Paneer Tikka
Medium spiced, thick curry cooked with fenugreek leaves
Medium
£8.50
Methi Lamb
Medium spiced, thick curry cooked with fenugreek leaves
Medium
£7.50
Methi Lamb Tikka
Medium spiced, thick curry cooked with fenugreek leaves
Medium
£8.50
Methi Tandoori Lamb Chops
Medium spiced, thick curry cooked with fenugreek leaves
Medium
£10.50
Methi Mixed Vegetable
Medium spiced, thick curry cooked with fenugreek leaves
Medium
£6.00
Methi Specific Vegetable
Medium spiced, thick curry cooked with fenugreek leaves
Medium
£6.00
Methi Fish Tikka
Medium spiced, thick curry cooked with fenugreek leaves
Medium
£12.00
Methi Prawn
Medium spiced, thick curry cooked with fenugreek leaves
Medium
£7.50
Methi King Prawn
Medium spiced, thick curry cooked with fenugreek leaves
Medium
£11.50
Methi Tandoori King Prawn
Medium spiced, thick curry cooked with fenugreek leaves
Medium
£13.00
Dopiaza Chicken
Medium spiced, thick curry, heavily cooked with onions
Medium
£7.50
Dopiaza Chicken Tikka
Medium spiced, thick curry, heavily cooked with onions
Medium
£8.50
Dopiaza Tandoori Chicken
Medium spiced, thick curry, heavily cooked with onions
Medium
£7.50
Dopiaza Chicken Wings
Medium spiced, thick curry, heavily cooked with onions
Medium
£9.00
Dopiaza Paneer
Medium spiced, thick curry, heavily cooked with onions
Medium
£7.50
Dopiaza Paneer Tikka
Medium spiced, thick curry, heavily cooked with onions
Medium
£8.50
Dopiaza Lamb
Medium spiced, thick curry, heavily cooked with onions
Medium
£7.50
Dopiaza Lamb Tikka
Medium spiced, thick curry, heavily cooked with onions
Medium
£8.50
Dopiaza Tandoori Lamb Chops
Medium spiced, thick curry, heavily cooked with onions
Medium
£10.50
Dopiaza Mixed Vegetable
Medium spiced, thick curry, heavily cooked with onions
Medium
£6.00
Dopiaza Specific Vegetable
Medium spiced, thick curry, heavily cooked with onions
Medium
£6.00
Dopiaza Fish Tikka
Medium spiced, thick curry, heavily cooked with onions
Medium
£12.00
Dopiaza Prawn
Medium spiced, thick curry, heavily cooked with onions
Medium
£7.50
Dopiaza King Prawn
Medium spiced, thick curry, heavily cooked with onions
Medium
£11.50
Dopiaza Tandoori King Prawn
Medium spiced, thick curry, heavily cooked with onions
Medium
£13.00
Rogan Josh Chicken
Medium spiced, thick curry cooked with fried tomatoes
Medium
£7.50
Rogan Josh Chicken Tikka
Medium spiced, thick curry cooked with fried tomatoes
Medium
£8.50
Rogan Josh Tandoori Chicken
Medium spiced, thick curry cooked with fried tomatoes
Medium
£7.50
Rogan Josh Chicken Wings
Medium spiced, thick curry cooked with fried tomatoes
Medium
£9.00
Rogan Josh Paneer
Medium spiced, thick curry cooked with fried tomatoes
Medium
£7.50
Rogan Josh Paneer Tikka
Medium spiced, thick curry cooked with fried tomatoes
Medium
£8.50
Rogan Josh Lamb
Medium spiced, thick curry cooked with fried tomatoes
Medium
£7.50
Rogan Josh Lamb Tikka
Medium spiced, thick curry cooked with fried tomatoes
Medium
£8.50
Rogan Josh Tandoori Lamb Chops
Medium spiced, thick curry cooked with fried tomatoes
Medium
£10.50
Rogan Josh Mixed Vegetable
Medium spiced, thick curry cooked with fried tomatoes
Medium
£6.00
Rogan Josh Specific Vegetable
Medium spiced, thick curry cooked with fried tomatoes
Medium
£6.00
Rogan Josh Fish Tikka
Medium spiced, thick curry cooked with fried tomatoes
Medium
£12.00
Rogan Josh Prawn
Medium spiced, thick curry cooked with fried tomatoes
Medium
£7.50
Rogan Josh King Prawn
Medium spiced, thick curry cooked with fried tomatoes
Medium
£11.50
Rogan Josh Tandoori King Prawn
Medium spiced, thick curry cooked with fried tomatoes
Medium
£13.00
Al-Amin Balti Chicken
A very saucy curry cooked with balti paste creating a sour, tangy taste
Spicy
£7.50
Al-Amin Balti Chicken Tikka
A very saucy curry cooked with balti paste creating a sour, tangy taste
Spicy
£8.50
Al-Amin Balti Tandoori Chicken
A very saucy curry cooked with balti paste creating a sour, tangy taste
Spicy
£7.50
Al-Amin Balti Chicken Wings
A very saucy curry cooked with balti paste creating a sour, tangy taste
Spicy
£9.00
Al-Amin Balti Paneer
A very saucy curry cooked with balti paste creating a sour, tangy taste
Spicy
£7.50
Al-Amin Balti Paneer Tikka
A very saucy curry cooked with balti paste creating a sour, tangy taste
Spicy
£8.50
Al-Amin Balti Lamb
A very saucy curry cooked with balti paste creating a sour, tangy taste
Spicy
£7.50
Al-Amin Balti Lamb Tikka
A very saucy curry cooked with balti paste creating a sour, tangy taste
Spicy
£8.50
Al-Amin Balti Tandoori Lamb Chops
A very saucy curry cooked with balti paste creating a sour, tangy taste
Spicy
£10.50
Al-Amin Balti Mixed Vegetable
A very saucy curry cooked with balti paste creating a sour, tangy taste
Spicy
£6.00
Al-Amin Balti Specific Vegetable
A very saucy curry cooked with balti paste creating a sour, tangy taste
Spicy
£6.00
Al-Amin Balti Fish Tikka
A very saucy curry cooked with balti paste creating a sour, tangy taste
Spicy
£12.00
Al-Amin Balti Prawn
A very saucy curry cooked with balti paste creating a sour, tangy taste
Spicy
£7.50
Al-Amin Balti King Prawn
A very saucy curry cooked with balti paste creating a sour, tangy taste
Spicy
£11.50
Al-Amin Balti Tandoori King Prawn
A very saucy curry cooked with balti paste creating a sour, tangy taste
Spicy
£13.00
Pistachio Masala Chicken
Sweet & spicy dish cooked with coconut, cream & pistachio nuts
spicy
£7.50
Pistachio Masala Chicken Tikka
Sweet & spicy dish cooked with coconut, cream & pistachio nuts
spicy
£8.50
Pistachio Masala Tandoori Chicken
Sweet & spicy dish cooked with coconut, cream & pistachio nuts
spicy
£7.50
Pistachio Masala Chicken Wings
Sweet & spicy dish cooked with coconut, cream & pistachio nuts
spicy
£9.00
Pistachio Masala Paneer
Sweet & spicy dish cooked with coconut, cream & pistachio nuts
spicy
£7.50
Pistachio Masala Paneer Tikka
Sweet & spicy dish cooked with coconut, cream & pistachio nuts
spicy
£8.50
Pistachio Masala Lamb
Sweet & spicy dish cooked with coconut, cream & pistachio nuts
spicy
£7.50
Pistachio Masala Lamb Tikka
Sweet & spicy dish cooked with coconut, cream & pistachio nuts
spicy
£8.50
Pistachio Masala Tandoori Lamb Chops
Sweet & spicy dish cooked with coconut, cream & pistachio nuts
spicy
£10.50
Pistachio Masala Mixed Vegetable
Sweet & spicy dish cooked with coconut, cream & pistachio nuts
spicy
£6.00
Pistachio Masala Specific Vegetable
Sweet & spicy dish cooked with coconut, cream & pistachio nuts
spicy
£6.00
Pistachio Masala Fish Tikka
Sweet & spicy dish cooked with coconut, cream & pistachio nuts
spicy
£12.00
Pistachio Masala Prawn
Sweet & spicy dish cooked with coconut, cream & pistachio nuts
spicy
£7.50
Pistachio Masala King Prawn
Sweet & spicy dish cooked with coconut, cream & pistachio nuts
spicy
£11.50
Pistachio Masala Tandoori King Prawn
Sweet & spicy dish cooked with coconut, cream & pistachio nuts
spicy
£13.00
Makhani Chicken
Highly spiced, thick curry cooked with green chilli, green pepper, topped with coriander leaves
Hot
£7.50
Makhani Chicken Tikka
Highly spiced, thick curry cooked with green chilli, green pepper, topped with coriander leaves
Hot
£8.50
Makhani Tandoori Chicken
Highly spiced, thick curry cooked with green chilli, green pepper, topped with coriander leaves
Hot
£7.50
Makhani Chicken Wings
Highly spiced, thick curry cooked with green chilli, green pepper, topped with coriander leaves
Hot
£9.00
Makhani Paneer
Highly spiced, thick curry cooked with green chilli, green pepper, topped with coriander leaves
Hot
£7.50
Makhani Paneer Tikka
Highly spiced, thick curry cooked with green chilli, green pepper, topped with coriander leaves
Hot
£8.50
Makhani Lamb
Highly spiced, thick curry cooked with green chilli, green pepper, topped with coriander leaves
Hot
£7.50
Makhani Lamb Tikka
Highly spiced, thick curry cooked with green chilli, green pepper, topped with coriander leaves
Hot
£8.50
Makhani Tandoori Lamb Chops
Highly spiced, thick curry cooked with green chilli, green pepper, topped with coriander leaves
Hot
£10.50
Makhani Mixed Vegetable
Highly spiced, thick curry cooked with green chilli, green pepper, topped with coriander leaves
Hot
£6.00
Makhani Specific Vegetable
Highly spiced, thick curry cooked with green chilli, green pepper, topped with coriander leaves
Hot
£6.00
Makhani Fish Tikka
Highly spiced, thick curry cooked with green chilli, green pepper, topped with coriander leaves
Hot
£12.00
Makhani Prawn
Highly spiced, thick curry cooked with green chilli, green pepper, topped with coriander leaves
Hot
£7.50
Makhani King Prawn
Highly spiced, thick curry cooked with green chilli, green pepper, topped with coriander leaves
Hot
£11.50
Makhani Tandoori King Prawn
Highly spiced, thick curry cooked with green chilli, green pepper, topped with coriander leaves
Hot
£13.00
Shahi Chicken
Highly spiced, saucy curry cooked with green chilli, green pepper & tomato, topped with coriander leaves
Hot
£7.50
Shahi Chicken Tikka
Highly spiced, saucy curry cooked with green chilli, green pepper & tomato, topped with coriander leaves
Hot
£8.50
Shahi Tandoori Chicken
Highly spiced, saucy curry cooked with green chilli, green pepper & tomato, topped with coriander leaves
Hot
£7.50
Shahi Chicken Wings
Highly spiced, saucy curry cooked with green chilli, green pepper & tomato, topped with coriander leaves
Hot
£9.00
Shahi Paneer
Highly spiced, saucy curry cooked with green chilli, green pepper & tomato, topped with coriander leaves
Hot
£7.50
Shahi Paneer Tikka
Highly spiced, saucy curry cooked with green chilli, green pepper & tomato, topped with coriander leaves
Hot
£8.50
Shahi Lamb
Highly spiced, saucy curry cooked with green chilli, green pepper & tomato, topped with coriander leaves
Hot
£7.50
Shahi Lamb Tikka
Highly spiced, saucy curry cooked with green chilli, green pepper & tomato, topped with coriander leaves
Hot
£8.50
Shahi Tandoori Lamb Chops
Highly spiced, saucy curry cooked with green chilli, green pepper & tomato, topped with coriander leaves
Hot
£10.50
Shahi Mixed Vegetable
Highly spiced, saucy curry cooked with green chilli, green pepper & tomato, topped with coriander leaves
Hot
£6.00
Shahi Specific Vegetable
Highly spiced, saucy curry cooked with green chilli, green pepper & tomato, topped with coriander leaves
Hot
£6.00
Shahi Fish Tikka
Highly spiced, saucy curry cooked with green chilli, green pepper & tomato, topped with coriander leaves
Hot
£12.00
Shahi Prawn
Highly spiced, saucy curry cooked with green chilli, green pepper & tomato, topped with coriander leaves
Hot
£7.50
Shahi King Prawn
Highly spiced, saucy curry cooked with green chilli, green pepper & tomato, topped with coriander leaves
Hot
£11.50
Shahi Tandoori King Prawn
Highly spiced, saucy curry cooked with green chilli, green pepper & tomato, topped with coriander leaves
Hot
£13.00
Jalfrezi Chicken
Bangladeshi style curry cooked with green chilli, green, red & yellow peppers mixed with a touch of naga sauce
Hot
£7.50
Jalfrezi Chicken Tikka
Bangladeshi style curry cooked with green chilli, green, red & yellow peppers mixed with a touch of naga sauce
Hot
£8.50
Jalfrezi Tandoori Chicken
Bangladeshi style curry cooked with green chilli, green, red & yellow peppers mixed with a touch of naga sauce
Hot
£7.50
Jalfrezi Chicken Wings
Bangladeshi style curry cooked with green chilli, green, red & yellow peppers mixed with a touch of naga sauce
Hot
£9.00
Jalfrezi Paneer
Bangladeshi style curry cooked with green chilli, green, red & yellow peppers mixed with a touch of naga sauce
Hot
£7.50
Jalfrezi Paneer Tikka
Bangladeshi style curry cooked with green chilli, green, red & yellow peppers mixed with a touch of naga sauce
Hot
£8.50
Jalfrezi Lamb
Bangladeshi style curry cooked with green chilli, green, red & yellow peppers mixed with a touch of naga sauce
Hot
£7.50
Jalfrezi Lamb Tikka
Bangladeshi style curry cooked with green chilli, green, red & yellow peppers mixed with a touch of naga sauce
Hot
£8.50
Jalfrezi Tandoori Lamb Chops
Bangladeshi style curry cooked with green chilli, green, red & yellow peppers mixed with a touch of naga sauce
Hot
£10.50
Jalfrezi Mixed Vegetable
Bangladeshi style curry cooked with green chilli, green, red & yellow peppers mixed with a touch of naga sauce
Hot
£6.00
Jalfrezi Specific Vegetable
Bangladeshi style curry cooked with green chilli, green, red & yellow peppers mixed with a touch of naga sauce
Hot
£6.00
Jalfrezi Fish Tikka
Bangladeshi style curry cooked with green chilli, green, red & yellow peppers mixed with a touch of naga sauce
Hot
£12.00
Jalfrezi Prawn
Bangladeshi style curry cooked with green chilli, green, red & yellow peppers mixed with a touch of naga sauce
Hot
£7.50
Jalfrezi King Prawn
Bangladeshi style curry cooked with green chilli, green, red & yellow peppers mixed with a touch of naga sauce
Hot
£11.50
Jalfrezi Tandoori King Prawn
Bangladeshi style curry cooked with green chilli, green, red & yellow peppers mixed with a touch of naga sauce
Hot
£13.00
Madras Chicken
Hot curry, red in colour, with use of chilli powder
Hot
£7.50
Madras Chicken Tikka
Hot curry, red in colour, with use of chilli powder
Hot
£8.50
Madras Tandoori Chicken
Hot curry, red in colour, with use of chilli powder
Hot
£7.50
Madras Chicken Wings
Hot curry, red in colour, with use of chilli powder
Hot
£9.00
Madras Paneer
Hot curry, red in colour, with use of chilli powder
Hot
£7.50
Madras Paneer Tikka
Hot curry, red in colour, with use of chilli powder
Hot
£8.50
Madras Lamb
Hot curry, red in colour, with use of chilli powder
Hot
£7.50
Madras Lamb Tikka
Hot curry, red in colour, with use of chilli powder
Hot
£8.50
Madras Tandoori Lamb Chops
Hot curry, red in colour, with use of chilli powder
Hot
£10.50
Madras Mixed Vegetable
Hot curry, red in colour, with use of chilli powder
Hot
£6.00
Madras Specific Vegetable
Hot curry, red in colour, with use of chilli powder
Hot
£6.00
Madras Fish Tikka
Hot curry, red in colour, with use of chilli powder
Hot
£12.00
Madras Prawn
Hot curry, red in colour, with use of chilli powder
Hot
£7.50
Madras King Prawn
Hot curry, red in colour, with use of chilli powder
Hot
£11.50
Madras Tandoori King Prawn
Hot curry, red in colour, with use of chilli powder
Hot
£13.00
Vindaloo Chicken
Popular in the region of Goa, very spicy dish cooked with heavy use of chilli powder. Served with a slice of potato
Flaming
£7.50
Vindaloo Chicken Tikka
Popular in the region of Goa, very spicy dish cooked with heavy use of chilli powder. Served with a slice of potato
Flaming
£8.50
Vindaloo Tandoori Chicken
Popular in the region of Goa, very spicy dish cooked with heavy use of chilli powder. Served with a slice of potato
Flaming
£7.50
Vindaloo Chicken Wings
Popular in the region of Goa, very spicy dish cooked with heavy use of chilli powder. Served with a slice of potato
Flaming
£9.00
Vindaloo Paneer
Popular in the region of Goa, very spicy dish cooked with heavy use of chilli powder. Served with a slice of potato
Flaming
£7.50
Vindaloo Paneer Tikka
Popular in the region of Goa, very spicy dish cooked with heavy use of chilli powder. Served with a slice of potato
Flaming
£8.50
Vindaloo Lamb
Popular in the region of Goa, very spicy dish cooked with heavy use of chilli powder. Served with a slice of potato
Flaming
£7.50
Vindaloo Lamb Tikka
Popular in the region of Goa, very spicy dish cooked with heavy use of chilli powder. Served with a slice of potato
Flaming
£8.50
Vindaloo Tandoori Lamb Chops
Popular in the region of Goa, very spicy dish cooked with heavy use of chilli powder. Served with a slice of potato
Flaming
£10.50
Vindaloo Mixed Vegetable
Popular in the region of Goa, very spicy dish cooked with heavy use of chilli powder. Served with a slice of potato
Flaming
£6.00
Vindaloo Specific Vegetable
Popular in the region of Goa, very spicy dish cooked with heavy use of chilli powder. Served with a slice of potato
Flaming
£6.00
Vindaloo Fish Tikka
Popular in the region of Goa, very spicy dish cooked with heavy use of chilli powder. Served with a slice of potato
Flaming
£12.00
Vindaloo Prawn
Popular in the region of Goa, very spicy dish cooked with heavy use of chilli powder. Served with a slice of potato
Flaming
£7.50
Vindaloo King Prawn
Popular in the region of Goa, very spicy dish cooked with heavy use of chilli powder. Served with a slice of potato
Flaming
£11.50
Vindaloo Tandoori King Prawn
Popular in the region of Goa, very spicy dish cooked with heavy use of chilli powder. Served with a slice of potato
Flaming
£13.00
Mixed Vegetable Curry
Medium
£3.50
Brinjal Bhaji
Aubergine or eggplant
Medium
£3.50
Gobi Bhaji
Cauliflower
Medium
£3.50
Saag Bhaji
Spinach
Medium
£3.50
Mattar Paneer
Peas with cheese
Medium
£3.50
Bombay Aloo
Potato
Medium
£3.50
Tarka Daal
Lentils
Medium
£3.50
Chana Masala
Chickpeas
Medium
£3.50
Chicken Shashlik Kebab
Medium
£7.00
Half Tandoori Chicken
Medium
£6.00
Tandoori Chicken Wings
Medium
£7.50
Lamb Shashlik Kebab
Medium
£7.00
Tandoori Lamb Chops
Medium
£8.00
Salmon Shashlik Kebab
Medium
£9.50
Tandoori King Prawn
Medium
£12.00
King Prawn Shashlik Kebab
Medium
£12.00
Paneer Shashlik Kebab
Medium
£7.00
Vegetable Shashlik Kebab
Medium
£5.00
Mixed Grill Tandoori Deluxe
Includes a piece of tandoori chicken, a few pieces of chicken tikka, lamb tikka & a piece of seekh kebab
Medium
£9.50
Mixed Grill Pescoori Deluxe
Pescatarian mixed grill, includes paneer tikka, king prawns & fish tikka
Medium
£16.00
Mixed Grill Super Deluxe
Includes piece of tandoori chicken, a few pieces of chicken tikka, lamb tikka, fish tikka, paneer tikka, king prawn & a piece of seekh kebab
Medium
£19.00
Mixed Grill for 2
Includes 2 pieces of tandoori chicken, some chicken tikka, lamb tikka, fish tikka, paneer tikka, chicken wings, lamb chops, king prawn & 2 pieces of seekh kebab
(Suitable for 2 people)
Medium
£38.00
Murgh Sagrana
Chicken stripped off the bone, marinated in spice, with creamy sauce, served with a portion of pulao rive often served on special occasions
Mild
£10.50
Loknai Gosht
Tender chunks of lamb tikka cooked with a rich onion & tomato sauce
Spicy
£10.00
Kadi Gosht
A lamb stew cooked with a whole coriander & seed & bulb chilli
Spicy
£9.00
Shatkora Gosht
Bangladeshi lamb curry cooked with calamansi juice, lemon leaf & naga chilli
Spicy
£9.00
Vegetable Hariyali
Mixed vegetable cooked with spinach, green chilli & garlic in a thick sauce
Hot
£9.00
Goan Fish Curry
Swordfish beautifully cooked with coconut & spice
Spicy
£10.00
Butter Chicken
Chicken stripped off the bone, cooked with cream & coconut powder topped with butter
Mild
£9.00
Tandoori Chicken Rezala
Chicken stripped off the bone, cooked with minced lamb, green chilli, green pepper & fenugreek leaves
Hot
£11.00
Murgh Musallam
Boneless chicken cooked with cream & minced lamb
Mild
£9.00
Dansak Chicken
Sweet, sour & hot curry cooked with lentils, served with a portion of pulao rice
Spicy
£10.00
Dansak Chicken Tikka
Sweet, sour & hot curry cooked with lentils, served with a portion of pulao rice
Spicy
£11.00
Dansak Tandoori Chicken
Sweet, sour & hot curry cooked with lentils, served with a portion of pulao rice
Spicy
£10.00
Dansak Chicken Wings
Sweet, sour & hot curry cooked with lentils, served with a portion of pulao rice
Spicy
£11.50
Dansak Paneer
Sweet, sour & hot curry cooked with lentils, served with a portion of pulao rice
Spicy
£10.00
Dansak Paneer Tikka
Sweet, sour & hot curry cooked with lentils, served with a portion of pulao rice
Spicy
£11.00
Dansak Lamb
Sweet, sour & hot curry cooked with lentils, served with a portion of pulao rice
Spicy
£10.00
Dansak Lamb Tikka
Sweet, sour & hot curry cooked with lentils, served with a portion of pulao rice
Spicy
£11.00
Dansak Tandoori Lamb Chops
Sweet, sour & hot curry cooked with lentils, served with a portion of pulao rice
Spicy
£12.50
Dansak Mixed Vegetable
Sweet, sour & hot curry cooked with lentils, served with a portion of pulao rice
Spicy
£8.50
Dansak Specific Vegetable
Sweet, sour & hot curry cooked with lentils, served with a portion of pulao rice
Spicy
£8.50
Dansak Fish Tikka
Sweet, sour & hot curry cooked with lentils, served with a portion of pulao rice
Spicy
£14.00
Dansak Prawn
Sweet, sour & hot curry cooked with lentils, served with a portion of pulao rice
Spicy
£10.00
Dansak King Prawn
Sweet, sour & hot curry cooked with lentils, served with a portion of pulao rice
Spicy
£13.00
Dansak Tandoori King Prawn
Sweet, sour & hot curry cooked with lentils, served with a portion of pulao rice
Spicy
£15.00
Biryani Chicken
Cooked with rice, topped with an omelette (optional), served with a side portion of vegetable curry
Medium
£10.00
Biryani Chicken Tikka
Cooked with rice, topped with an omelette (optional), served with a side portion of vegetable curry
Medium
£11.00
Biryani Tandoori Chicken
Cooked with rice, topped with an omelette (optional), served with a side portion of vegetable curry
Medium
£10.00
Biryani Chicken Wings
Cooked with rice, topped with an omelette (optional), served with a side portion of vegetable curry
Medium
£11.50
Biryani Paneer
Cooked with rice, topped with an omelette (optional), served with a side portion of vegetable curry
Medium
£10.00
Biryani Paneer Tikka
Cooked with rice, topped with an omelette (optional), served with a side portion of vegetable curry
Medium
£11.00
Biryani Lamb
Cooked with rice, topped with an omelette (optional), served with a side portion of vegetable curry
Medium
£10.00
Biryani Lamb Tikka
Cooked with rice, topped with an omelette (optional), served with a side portion of vegetable curry
Medium
£11.00
Biryani Tandoori Lamb Chops
Cooked with rice, topped with an omelette (optional), served with a side portion of vegetable curry
Medium
£12.50
Biryani Mixed Vegetable
Cooked with rice, topped with an omelette (optional), served with a side portion of vegetable curry
Medium
£8.50
Biryani Specific Vegetable
Cooked with rice, topped with an omelette (optional), served with a side portion of vegetable curry
Medium
£8.50
Biryani Fish Tikka
Cooked with rice, topped with an omelette (optional), served with a side portion of vegetable curry
Medium
£14.00
Biryani Prawn
Cooked with rice, topped with an omelette (optional), served with a side portion of vegetable curry
Medium
£10.00
Biryani King Prawn
Cooked with rice, topped with an omelette (optional), served with a side portion of vegetable curry
Medium
£13.00
Biryani Tandoori King Prawn
Cooked with rice, topped with an omelette (optional), served with a side portion of vegetable curry
Medium
£15.00
Achari Chicken
Cooked with mixed pickle
Medium
£10.00
Achari Chicken Tikka
Cooked with mixed pickle
Medium
£11.00
Achari Tandoori Chicken
Cooked with mixed pickle
Medium
£10.00
Achari Chicken Wings
Cooked with mixed pickle
Medium
£11.50
Achari Paneer
Cooked with mixed pickle
Medium
£10.00
Achari Paneer Tikka
Cooked with mixed pickle
Medium
£11.00
Achari Lamb
Cooked with mixed pickle
Medium
£10.00
Achari Lamb Tikka
Cooked with mixed pickle
Medium
£11.00
Achari Tandoori Lamb Chops
Cooked with mixed pickle
Medium
£12.50
Achari Mixed Vegetable
Cooked with mixed pickle
Medium
£8.50
Achari Specific Vegetable
Cooked with mixed pickle
Medium
£8.50
Achari Fish Tikka
Cooked with mixed pickle
Medium
£14.00
Achari Prawn
Cooked with mixed pickle
Medium
£10.00
Achari King Prawn
Cooked with mixed pickle
Medium
£13.00
Achari Tandoori King Prawn
Cooked with mixed pickle
Medium
£15.00
Garlic Chilli Chicken
Cooked with green chilli & garlic
Hot
£10.00
Garlic Chilli Chicken Tikka
Cooked with green chilli & garlic
Hot
£11.00
Garlic Chilli Tandoori Chicken
Cooked with green chilli & garlic
Hot
£10.00
Garlic Chilli Chicken Wings
Cooked with green chilli & garlic
Hot
£11.50
Garlic Chilli Paneer
Cooked with green chilli & garlic
Hot
£10.00
Garlic Chilli Paneer Tikka
Cooked with green chilli & garlic
Hot
£11.00
Garlic Chilli Lamb
Cooked with green chilli & garlic
Hot
£10.00
Garlic Chilli Lamb Tikka
Cooked with green chilli & garlic
Hot
£11.00
Garlic Chilli Tandoori Lamb Chops
Cooked with green chilli & garlic
Hot
£12.50
Garlic Chilli Mixed Vegetable
Cooked with green chilli & garlic
Hot
£8.50
Garlic Chilli Specific Vegetable
Cooked with green chilli & garlic
Hot
£8.50
Garlic Chilli Fish Tikka
Cooked with green chilli & garlic
Hot
£14.00
Garlic Chilli Prawn
Cooked with green chilli & garlic
Hot
£10.00
Garlic Chilli King Prawn
Cooked with green chilli & garlic
Hot
£13.00
Garlic Chilli Tandoori King Prawn
Cooked with green chilli & garlic
Hot
£15.00
Xacuti Chicken
Highly spiced curry from Goa cooked with coconut
Hot
£10.00
Xacuti Chicken Tikka
Highly spiced curry from Goa cooked with coconut
Hot
£11.00
Xacuti Tandoori Chicken
Highly spiced curry from Goa cooked with coconut
Hot
£10.00
Xacuti Chicken Wings
Highly spiced curry from Goa cooked with coconut
Hot
£11.50
Xacuti Paneer
Highly spiced curry from Goa cooked with coconut
Hot
£10.00
Xacuti Paneer Tikka
Highly spiced curry from Goa cooked with coconut
Hot
£11.00
Xacuti Lamb
Highly spiced curry from Goa cooked with coconut
Hot
£10.00
Xacuti Lamb Tikka
Highly spiced curry from Goa cooked with coconut
Hot
£11.00
Xacuti Tandoori Lamb Chops
Highly spiced curry from Goa cooked with coconut
Hot
£12.50
Xacuti Mixed Vegetable
Highly spiced curry from Goa cooked with coconut
Hot
£8.50
Xacuti Specific Vegetable
Highly spiced curry from Goa cooked with coconut
Hot
£8.50
Xacuti Fish Tikka
Highly spiced curry from Goa cooked with coconut
Hot
£14.00
Xacuti Prawn
Highly spiced curry from Goa cooked with coconut
Hot
£10.00
Xacuti King Prawn
Highly spiced curry from Goa cooked with coconut
Hot
£13.00
Xacuti Tandoori King Prawn
Highly spiced curry from Goa cooked with coconut
Hot
£15.00
Peshwari Chicken
Mild curry cooked with cream, almond & sultans, topped with a slice of mango
Mild
£10.00
Peshwari Chicken Tikka
Mild curry cooked with cream, almond & sultans, topped with a slice of mango
Mild
£11.00
Peshwari Tandoori Chicken
Mild curry cooked with cream, almond & sultans, topped with a slice of mango
Mild
£10.00
Peshwari Chicken Wings
Mild curry cooked with cream, almond & sultans, topped with a slice of mango
Mild
£11.50
Peshwari Paneer
Mild curry cooked with cream, almond & sultans, topped with a slice of mango
Mild
£10.00
Peshwari Paneer Tikka
Mild curry cooked with cream, almond & sultans, topped with a slice of mango
Mild
£11.00
Peshwari Lamb
Mild curry cooked with cream, almond & sultans, topped with a slice of mango
Mild
£10.00
Peshwari Lamb Tikka
Mild curry cooked with cream, almond & sultans, topped with a slice of mango
Mild
£11.00
Peshwari Tandoori Lamb Chops
Mild curry cooked with cream, almond & sultans, topped with a slice of mango
Mild
£12.50
Peshwari Mixed Vegetable
Mild curry cooked with cream, almond & sultans, topped with a slice of mango
Mild
£8.50
Peshwari Specific Vegetable
Mild curry cooked with cream, almond & sultans, topped with a slice of mango
Mild
£8.50
Peshwari Fish Tikka
Mild curry cooked with cream, almond & sultans, topped with a slice of mango
Mild
£14.00
Peshwari Prawn
Mild curry cooked with cream, almond & sultans, topped with a slice of mango
Mild
£10.00
Peshwari King Prawn
Mild curry cooked with cream, almond & sultans, topped with a slice of mango
Mild
£13.00
Peshwari Tandoori King Prawn
Mild curry cooked with cream, almond & sultans, topped with a slice of mango
Mild
£15.00
Contact Us
Find Us
483 Cambridge Heath Road, London, E29BU
We deliver to
E1, E2, E3, E5, E8, E9, N1