About Us
Al-Amin is a Indian takeaway in London. Why don't you try our Tikka Masala or Dopiaza?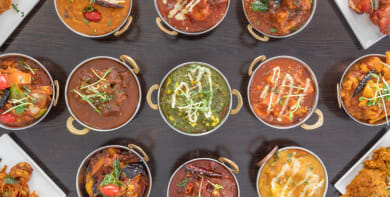 Reviews
59 reviews
EDWARD
"Fabulous curry as usual"
19/07/2021
Callum
"It was banging"
17/07/2021
EDWARD
"Delicious food as always"
26/06/2021
Ricky
"Al Amin is probably the best curry we've ever eaten.. Never too greasy, always top for taste. Only problem is that because it's so good we order too much. Not one bad experience with Al Amin."
28/05/2021
Menu
King Prawn Puri
King prawn cooked in medium sauce served with a puri
Medium
£5.00
King Prawn Butter Fried
King prawn, covered in egg, breadcrumb, then deep fried
Mild
£5.00
Tandoori Chicken Wings
Medium
£4.00
Tandoori Lamb Chops
Medium
£5.30
Quarter Tandoori Chicken
Medium
£3.40
Seekh Kebab
Topped with omelette
Medium
£3.40
Shami Kebab
Topped with omelette
Medium
£3.40
Mirch Chana
Chickpeas
Spicy
£3.40
Prawn Puri
Prawns cooked in medium sauce served with a puri
Medium
£4.00
Chicken Chaat
Cooked in a spicy sour sauce with cucumber, served with a green salad
Spicy
£4.00
Aloo Bora
Mashed potato stuffed with mint & ginger, covered egg in & breadcrumb, then deep fried
Mild
£4.00
Murgh Sagrana
Chicken stripped off the bone, marinated in spice, with creamy sauce, served with a portion of pulao rive often served on special occasions
Mild
£10.50
Loknai Gosht
Tender chunks of lamb tikka cooked with a rich onion & tomato sauce
Spicy
£10.00
Kadi Gosht
A lamb stew cooked with a whole coriander & seed & bulb chilli
Spicy
£9.00
Shatkora Gosht
Bangladeshi lamb curry cooked with calamansi juice, lemon leaf & naga chilli
Spicy
£9.00
Vegetable Hariyali
Mixed vegetable cooked with spinach, green chilli & garlic in a thick sauce
Hot
£9.00
Goan Fish Curry
Swordfish beautifully cooked with coconut & spice
Spicy
£10.00
Butter Chicken
Chicken stripped off the bone, cooked with cream & coconut powder topped with butter
Mild
£9.00
Tandoori Chicken Rezala
Chicken stripped off the bone, cooked with minced lamb, green chilli, green pepper & fenugreek leaves
Hot
£11.00
Murgh Musallam
Boneless chicken cooked with cream & minced lamb
Mild
£9.00
Dansak Mixed Vegetable
Sweet, sour & hot curry cooked with lentils, served with a portion of pulao rice
Spicy
£8.50
Dansak Specific Vegetable
Sweet, sour & hot curry cooked with lentils, served with a portion of pulao rice
Spicy
£8.50
Dansak Chicken
Sweet, sour & hot curry cooked with lentils, served with a portion of pulao rice
Spicy
£10.00
Dansak Lamb
Sweet, sour & hot curry cooked with lentils, served with a portion of pulao rice
Spicy
£10.00
Dansak Paneer
Sweet, sour & hot curry cooked with lentils, served with a portion of pulao rice
Spicy
£10.00
Dansak Prawn
Sweet, sour & hot curry cooked with lentils, served with a portion of pulao rice
Spicy
£10.00
Dansak Tandoori Chicken
Sweet, sour & hot curry cooked with lentils, served with a portion of pulao rice
Spicy
£10.00
Dansak Chicken Tikka
Sweet, sour & hot curry cooked with lentils, served with a portion of pulao rice
Spicy
£11.00
Dansak Lamb Tikka
Sweet, sour & hot curry cooked with lentils, served with a portion of pulao rice
Spicy
£11.00
Dansak Paneer Tikka
Sweet, sour & hot curry cooked with lentils, served with a portion of pulao rice
Spicy
£11.00
Dansak Chicken Wings
Sweet, sour & hot curry cooked with lentils, served with a portion of pulao rice
Spicy
£11.50
Dansak Tandoori Lamb Chops
Sweet, sour & hot curry cooked with lentils, served with a portion of pulao rice
Spicy
£12.50
Dansak King Prawn
Sweet, sour & hot curry cooked with lentils, served with a portion of pulao rice
Spicy
£13.00
Dansak Fish Tikka
Sweet, sour & hot curry cooked with lentils, served with a portion of pulao rice
Spicy
£14.00
Dansak Tandoori King Prawn
Sweet, sour & hot curry cooked with lentils, served with a portion of pulao rice
Spicy
£15.00
Biryani Mixed Vegetable
Cooked with rice, topped with an omelette (optional), served with a side portion of vegetable curry
Medium
£8.50
Biryani Specific Vegetable
Cooked with rice, topped with an omelette (optional), served with a side portion of vegetable curry
Medium
£8.50
Biryani Chicken
Cooked with rice, topped with an omelette (optional), served with a side portion of vegetable curry
Medium
£10.00
Biryani Lamb
Cooked with rice, topped with an omelette (optional), served with a side portion of vegetable curry
Medium
£10.00
Biryani Paneer
Cooked with rice, topped with an omelette (optional), served with a side portion of vegetable curry
Medium
£10.00
Biryani Prawn
Cooked with rice, topped with an omelette (optional), served with a side portion of vegetable curry
Medium
£10.00
Biryani Tandoori Chicken
Cooked with rice, topped with an omelette (optional), served with a side portion of vegetable curry
Medium
£10.00
Biryani Chicken Tikka
Cooked with rice, topped with an omelette (optional), served with a side portion of vegetable curry
Medium
£11.00
Biryani Lamb Tikka
Cooked with rice, topped with an omelette (optional), served with a side portion of vegetable curry
Medium
£11.00
Biryani Paneer Tikka
Cooked with rice, topped with an omelette (optional), served with a side portion of vegetable curry
Medium
£11.00
Biryani Chicken Wings
Cooked with rice, topped with an omelette (optional), served with a side portion of vegetable curry
Medium
£11.50
Biryani Tandoori Lamb Chops
Cooked with rice, topped with an omelette (optional), served with a side portion of vegetable curry
Medium
£12.50
Biryani King Prawn
Cooked with rice, topped with an omelette (optional), served with a side portion of vegetable curry
Medium
£13.00
Biryani Fish Tikka
Cooked with rice, topped with an omelette (optional), served with a side portion of vegetable curry
Medium
£14.00
Biryani Tandoori King Prawn
Cooked with rice, topped with an omelette (optional), served with a side portion of vegetable curry
Medium
£15.00
Achari Mixed Vegetable
Cooked with mixed pickle
Medium
£8.50
Achari Specific Vegetable
Cooked with mixed pickle
Medium
£8.50
Achari Chicken
Cooked with mixed pickle
Medium
£10.00
Achari Lamb
Cooked with mixed pickle
Medium
£10.00
Achari Paneer
Cooked with mixed pickle
Medium
£10.00
Achari Prawn
Cooked with mixed pickle
Medium
£10.00
Achari Tandoori Chicken
Cooked with mixed pickle
Medium
£10.00
Achari Chicken Tikka
Cooked with mixed pickle
Medium
£11.00
Achari Lamb Tikka
Cooked with mixed pickle
Medium
£11.00
Achari Paneer Tikka
Cooked with mixed pickle
Medium
£11.00
Achari Chicken Wings
Cooked with mixed pickle
Medium
£11.50
Achari Tandoori Lamb Chops
Cooked with mixed pickle
Medium
£12.50
Achari King Prawn
Cooked with mixed pickle
Medium
£13.00
Achari Fish Tikka
Cooked with mixed pickle
Medium
£14.00
Achari Tandoori King Prawn
Cooked with mixed pickle
Medium
£15.00
Garlic Chilli Mixed Vegetable
Cooked with green chilli & garlic
Hot
£8.50
Garlic Chilli Specific Vegetable
Cooked with green chilli & garlic
Hot
£8.50
Garlic Chilli Chicken
Cooked with green chilli & garlic
Hot
£10.00
Garlic Chilli Lamb
Cooked with green chilli & garlic
Hot
£10.00
Garlic Chilli Paneer
Cooked with green chilli & garlic
Hot
£10.00
Garlic Chilli Prawn
Cooked with green chilli & garlic
Hot
£10.00
Garlic Chilli Tandoori Chicken
Cooked with green chilli & garlic
Hot
£10.00
Garlic Chilli Chicken Tikka
Cooked with green chilli & garlic
Hot
£11.00
Garlic Chilli Lamb Tikka
Cooked with green chilli & garlic
Hot
£11.00
Garlic Chilli Paneer Tikka
Cooked with green chilli & garlic
Hot
£11.00
Garlic Chilli Chicken Wings
Cooked with green chilli & garlic
Hot
£11.50
Garlic Chilli Tandoori Lamb Chops
Cooked with green chilli & garlic
Hot
£12.50
Garlic Chilli King Prawn
Cooked with green chilli & garlic
Hot
£13.00
Garlic Chilli Fish Tikka
Cooked with green chilli & garlic
Hot
£14.00
Garlic Chilli Tandoori King Prawn
Cooked with green chilli & garlic
Hot
£15.00
Xacuti Mixed Vegetable
Highly spiced curry from Goa cooked with coconut
Hot
£8.50
Xacuti Specific Vegetable
Highly spiced curry from Goa cooked with coconut
Hot
£8.50
Xacuti Chicken
Highly spiced curry from Goa cooked with coconut
Hot
£10.00
Xacuti Lamb
Highly spiced curry from Goa cooked with coconut
Hot
£10.00
Xacuti Paneer
Highly spiced curry from Goa cooked with coconut
Hot
£10.00
Xacuti Prawn
Highly spiced curry from Goa cooked with coconut
Hot
£10.00
Xacuti Tandoori Chicken
Highly spiced curry from Goa cooked with coconut
Hot
£10.00
Xacuti Chicken Tikka
Highly spiced curry from Goa cooked with coconut
Hot
£11.00
Xacuti Lamb Tikka
Highly spiced curry from Goa cooked with coconut
Hot
£11.00
Xacuti Paneer Tikka
Highly spiced curry from Goa cooked with coconut
Hot
£11.00
Xacuti Chicken Wings
Highly spiced curry from Goa cooked with coconut
Hot
£11.50
Xacuti Tandoori Lamb Chops
Highly spiced curry from Goa cooked with coconut
Hot
£12.50
Xacuti King Prawn
Highly spiced curry from Goa cooked with coconut
Hot
£13.00
Xacuti Fish Tikka
Highly spiced curry from Goa cooked with coconut
Hot
£14.00
Xacuti Tandoori King Prawn
Highly spiced curry from Goa cooked with coconut
Hot
£15.00
Peshwari Mixed Vegetable
Mild curry cooked with cream, almond & sultans, topped with a slice of mango
Mild
£8.50
Peshwari Specific Vegetable
Mild curry cooked with cream, almond & sultans, topped with a slice of mango
Mild
£8.50
Peshwari Chicken
Mild curry cooked with cream, almond & sultans, topped with a slice of mango
Mild
£10.00
Peshwari Lamb
Mild curry cooked with cream, almond & sultans, topped with a slice of mango
Mild
£10.00
Peshwari Paneer
Mild curry cooked with cream, almond & sultans, topped with a slice of mango
Mild
£10.00
Peshwari Prawn
Mild curry cooked with cream, almond & sultans, topped with a slice of mango
Mild
£10.00
Peshwari Tandoori Chicken
Mild curry cooked with cream, almond & sultans, topped with a slice of mango
Mild
£10.00
Peshwari Chicken Tikka
Mild curry cooked with cream, almond & sultans, topped with a slice of mango
Mild
£11.00
Peshwari Lamb Tikka
Mild curry cooked with cream, almond & sultans, topped with a slice of mango
Mild
£11.00
Peshwari Paneer Tikka
Mild curry cooked with cream, almond & sultans, topped with a slice of mango
Mild
£11.00
Peshwari Chicken Wings
Mild curry cooked with cream, almond & sultans, topped with a slice of mango
Mild
£11.50
Peshwari Tandoori Lamb Chops
Mild curry cooked with cream, almond & sultans, topped with a slice of mango
Mild
£12.50
Peshwari King Prawn
Mild curry cooked with cream, almond & sultans, topped with a slice of mango
Mild
£13.00
Peshwari Fish Tikka
Mild curry cooked with cream, almond & sultans, topped with a slice of mango
Mild
£14.00
Peshwari Tandoori King Prawn
Mild curry cooked with cream, almond & sultans, topped with a slice of mango
Mild
£15.00
Chicken Shashlik Kebab
Medium
£7.00
Half Tandoori Chicken
Medium
£6.00
Tandoori Chicken Wings
Medium
£7.50
Lamb Shashlik Kebab
Medium
£7.00
Tandoori Lamb Chops
Medium
£8.00
Salmon Shashlik Kebab
Medium
£9.50
Tandoori King Prawn
Medium
£12.00
King Prawn Shashlik Kebab
Medium
£12.00
Paneer Shashlik Kebab
Medium
£7.00
Vegetable Shashlik Kebab
Medium
£5.00
Mixed Grill Tandoori Deluxe
Includes a piece of tandoori chicken, a few pieces of chicken tikka, lamb tikka & a piece of seekh kebab
Medium
£9.50
Mixed Grill Pescoori Deluxe
Pescatarian mixed grill, includes paneer tikka, king prawns & fish tikka
Medium
£16.00
Mixed Grill Super Deluxe
Includes piece of tandoori chicken, a few pieces of chicken tikka, lamb tikka, fish tikka, paneer tikka, king prawn & a piece of seekh kebab
Medium
£19.00
Mixed Grill for 2
Includes 2 pieces of tandoori chicken, some chicken tikka, lamb tikka, fish tikka, paneer tikka, chicken wings, lamb chops, king prawn & 2 pieces of seekh kebab
(Suitable for 2 people)
Medium
£38.00
Korma Mixed Vegetable
Mild, sweet dish cooked with cream, coconut powder & raisins
Mild
£6.00
Korma Specific Vegetable
Mild, sweet dish cooked with cream, coconut powder & raisins
Mild
£6.00
Korma Chicken
Mild, sweet dish cooked with cream, coconut powder & raisins
Mild
£7.50
Korma Lamb
Mild, sweet dish cooked with cream, coconut powder & raisins
Mild
£7.50
Korma Paneer
Mild, sweet dish cooked with cream, coconut powder & raisins
Mild
£7.50
Korma Prawn
Mild, sweet dish cooked with cream, coconut powder & raisins
Mild
£7.50
Korma Tandoori Chicken
Mild, sweet dish cooked with cream, coconut powder & raisins
Mild
£7.50
Korma Chicken Tikka
Mild, sweet dish cooked with cream, coconut powder & raisins
Mild
£8.50
Korma Lamb Tikka
Mild, sweet dish cooked with cream, coconut powder & raisins
Mild
£8.50
Korma Paneer Tikka
Mild, sweet dish cooked with cream, coconut powder & raisins
Mild
£8.50
Korma Chicken Wings
Mild, sweet dish cooked with cream, coconut powder & raisins
Mild
£9.00
Korma Tandoori Lamb Chops
Mild, sweet dish cooked with cream, coconut powder & raisins
Mild
£10.50
Korma King Prawn
Mild, sweet dish cooked with cream, coconut powder & raisins
Mild
£11.50
Korma Fish Tikka
Mild, sweet dish cooked with cream, coconut powder & raisins
Mild
£12.00
Korma Tandoori King Prawn
Mild, sweet dish cooked with cream, coconut powder & raisins
Mild
£13.00
Masala Mixed Vegetable
Mild curry cooked with cream & coconut powder topped with nuts & almonds
Mild
£6.00
Masala Specific Vegetable
Mild curry cooked with cream & coconut powder topped with nuts & almonds
Mild
£6.00
Masala Prawn
Mild curry cooked with cream & coconut powder topped with nuts & almonds
Mild
£7.50
Masala Tandoori Chicken
Mild curry cooked with cream & coconut powder topped with nuts & almonds
Mild
£7.50
Masala Chicken Tikka
Mild curry cooked with cream & coconut powder topped with nuts & almonds
Mild
£8.50
Masala Lamb Tikka
Mild curry cooked with cream & coconut powder topped with nuts & almonds
Mild
£8.50
Masala Paneer Tikka
Mild curry cooked with cream & coconut powder topped with nuts & almonds
Mild
£8.50
Masala Chicken Wings
Mild curry cooked with cream & coconut powder topped with nuts & almonds
Mild
£9.00
Masala Tandoori Lamb Chops
Mild curry cooked with cream & coconut powder topped with nuts & almonds
Mild
£10.50
Masala King Prawn
Mild curry cooked with cream & coconut powder topped with nuts & almonds
Mild
£11.50
Masala Fish Tikka
Mild curry cooked with cream & coconut powder topped with nuts & almonds
Mild
£12.00
Masala Tandoori King Prawn
Mild curry cooked with cream & coconut powder topped with nuts & almonds
Mild
£13.00
Pasanda Mixed Vegetable
Mild curry cooked with cream & pistachio nuts
Mild
£6.00
Pasanda Specific Vegetable
Mild curry cooked with cream & pistachio nuts
Mild
£6.00
Pasanda Prawn
Mild curry cooked with cream & pistachio nuts
Mild
£7.50
Pasanda Tandoori Chicken
Mild curry cooked with cream & pistachio nuts
Mild
£7.50
Pasanda Chicken Tikka
Mild curry cooked with cream & pistachio nuts
Mild
£8.50
Pasanda Lamb Tikka
Mild curry cooked with cream & pistachio nuts
Mild
£8.50
Pasanda Paneer Tikka
Mild curry cooked with cream & pistachio nuts
Mild
£8.50
Pasanda Chicken Wings
Mild curry cooked with cream & pistachio nuts
Mild
£9.00
Pasanda Tandoori Lamb Chops
Mild curry cooked with cream & pistachio nuts
Mild
£10.50
Pasanda King Prawn
Mild curry cooked with cream & pistachio nuts
Mild
£11.50
Pasanda Fish Tikka
Mild curry cooked with cream & pistachio nuts
Mild
£12.00
Pasanda Tandoori King Prawn
Mild curry cooked with cream & pistachio nuts
Mild
£13.00
Mughlai Mixed Vegetable
Cooked with cream, pineapple, lychee, raisins & almonds, topped with an omelette
Mild
£6.00
Mughlai Specific Vegetable
Cooked with cream, pineapple, lychee, raisins & almonds, topped with an omelette
Mild
£6.00
Mughlai Chicken
Cooked with cream, pineapple, lychee, raisins & almonds, topped with an omelette
Mild
£7.50
Mughlai Lamb
Cooked with cream, pineapple, lychee, raisins & almonds, topped with an omelette
Mild
£7.50
Mughlai Paneer
Cooked with cream, pineapple, lychee, raisins & almonds, topped with an omelette
Mild
£7.50
Mughlai Prawn
Cooked with cream, pineapple, lychee, raisins & almonds, topped with an omelette
Mild
£7.50
Mughlai Tandoori Chicken
Cooked with cream, pineapple, lychee, raisins & almonds, topped with an omelette
Mild
£7.50
Mughlai Chicken Tikka
Cooked with cream, pineapple, lychee, raisins & almonds, topped with an omelette
Mild
£8.50
Mughlai Lamb Tikka
Cooked with cream, pineapple, lychee, raisins & almonds, topped with an omelette
Mild
£8.50
Mughlai Paneer Tikka
Cooked with cream, pineapple, lychee, raisins & almonds, topped with an omelette
Mild
£8.50
Mughlai Chicken Wings
Cooked with cream, pineapple, lychee, raisins & almonds, topped with an omelette
Mild
£9.00
Mughlai Tandoori Lamb Chops
Cooked with cream, pineapple, lychee, raisins & almonds, topped with an omelette
Mild
£10.50
Mughlai King Prawn
Cooked with cream, pineapple, lychee, raisins & almonds, topped with an omelette
Mild
£11.50
Mughlai Fish Tikka
Cooked with cream, pineapple, lychee, raisins & almonds, topped with an omelette
Mild
£12.00
Mughlai Tandoori King Prawn
Cooked with cream, pineapple, lychee, raisins & almonds, topped with an omelette
Mild
£13.00
Kashmiri Mixed Vegetable
Mild curry cooked in a thick sauce, topped with a slice of banana
Mild
£6.00
Kashmiri Specific Vegetable
Mild curry cooked in a thick sauce, topped with a slice of banana
Mild
£6.00
Kashmiri Chicken
Mild curry cooked in a thick sauce, topped with a slice of banana
Mild
£7.50
Kashmiri Lamb
Mild curry cooked in a thick sauce, topped with a slice of banana
Mild
£7.50
Kashmiri Paneer
Mild curry cooked in a thick sauce, topped with a slice of banana
Mild
£7.50
Kashmiri Prawn
Mild curry cooked in a thick sauce, topped with a slice of banana
Mild
£7.50
Kashmiri Tandoori Chicken
Mild curry cooked in a thick sauce, topped with a slice of banana
Mild
£7.50
Kashmiri Chicken Tikka
Mild curry cooked in a thick sauce, topped with a slice of banana
Mild
£8.50
Kashmiri Lamb Tikka
Mild curry cooked in a thick sauce, topped with a slice of banana
Mild
£8.50
Kashmiri Paneer Tikka
Mild curry cooked in a thick sauce, topped with a slice of banana
Mild
£8.50
Kashmiri Chicken Wings
Mild curry cooked in a thick sauce, topped with a slice of banana
Mild
£9.00
Kashmiri Tandoori Lamb Chops
Mild curry cooked in a thick sauce, topped with a slice of banana
Mild
£10.50
Kashmiri King Prawn
Mild curry cooked in a thick sauce, topped with a slice of banana
Mild
£11.50
Kashmiri Fish Tikka
Mild curry cooked in a thick sauce, topped with a slice of banana
Mild
£12.00
Kashmiri Tandoori King Prawn
Mild curry cooked in a thick sauce, topped with a slice of banana
Mild
£13.00
Bhuna Mixed Vegetable
Medium spiced, thick burry
Medium
£6.00
Bhuna Specific Vegetable
Medium spiced, thick burry
Medium
£6.00
Bhuna Chicken
Medium spiced, thick burry
Medium
£7.50
Bhuna Lamb
Medium spiced, thick burry
Medium
£7.50
Bhuna Paneer
Medium spiced, thick burry
Medium
£7.50
Bhuna Prawn
Medium spiced, thick burry
Medium
£7.50
Bhuna Tandoori Chicken
Medium spiced, thick burry
Medium
£7.50
Bhuna Chicken Tikka
Medium spiced, thick burry
Medium
£8.50
Bhuna Lamb Tikka
Medium spiced, thick burry
Medium
£8.50
Bhuna Paneer Tikka
Medium spiced, thick burry
Medium
£8.50
Bhuna Chicken Wings
Medium spiced, thick burry
Medium
£9.00
Bhuna Tandoori Lamb Chops
Medium spiced, thick burry
Medium
£10.50
Bhuna King Prawn
Medium spiced, thick burry
Medium
£11.50
Bhuna Fish Tikka
Medium spiced, thick burry
Medium
£12.00
Bhuna Tandoori King Prawn
Medium spiced, thick burry
Medium
£13.00
Korai Mixed Vegetable
Medium spiced, thick curry cooked with green peppers & onions
Medium
£6.00
Korai Specific Vegetable
Medium spiced, thick curry cooked with green peppers & onions
Medium
£6.00
Korai Chicken
Medium spiced, thick curry cooked with green peppers & onions
Medium
£7.50
Korai Lamb
Medium spiced, thick curry cooked with green peppers & onions
Medium
£7.50
Korai Paneer
Medium spiced, thick curry cooked with green peppers & onions
Medium
£7.50
Korai Prawn
Medium spiced, thick curry cooked with green peppers & onions
Medium
£7.50
Korai Tandoori Chicken
Medium spiced, thick curry cooked with green peppers & onions
Medium
£7.50
Korai Chicken Tikka
Medium spiced, thick curry cooked with green peppers & onions
Medium
£8.50
Korai Lamb Tikka
Medium spiced, thick curry cooked with green peppers & onions
Medium
£8.50
Korai Paneer Tikka
Medium spiced, thick curry cooked with green peppers & onions
Medium
£8.50
Korai Chicken Wings
Medium spiced, thick curry cooked with green peppers & onions
Medium
£9.00
Korai Tandoori Lamb Chops
Medium spiced, thick curry cooked with green peppers & onions
Medium
£10.50
Korai King Prawn
Medium spiced, thick curry cooked with green peppers & onions
Medium
£11.50
Korai Fish Tikka
Medium spiced, thick curry cooked with green peppers & onions
Medium
£12.00
Korai Tandoori King Prawn
Medium spiced, thick curry cooked with green peppers & onions
Medium
£13.00
Methi Mixed Vegetable
Medium spiced, thick curry cooked with fenugreek leaves
Medium
£6.00
Methi Specific Vegetable
Medium spiced, thick curry cooked with fenugreek leaves
Medium
£6.00
Methi Chicken
Medium spiced, thick curry cooked with fenugreek leaves
Medium
£7.50
Methi Lamb
Medium spiced, thick curry cooked with fenugreek leaves
Medium
£7.50
Methi Paneer
Medium spiced, thick curry cooked with fenugreek leaves
Medium
£7.50
Methi Prawn
Medium spiced, thick curry cooked with fenugreek leaves
Medium
£7.50
Methi Tandoori Chicken
Medium spiced, thick curry cooked with fenugreek leaves
Medium
£7.50
Methi Chicken Tikka
Medium spiced, thick curry cooked with fenugreek leaves
Medium
£8.50
Methi Lamb Tikka
Medium spiced, thick curry cooked with fenugreek leaves
Medium
£8.50
Methi Paneer Tikka
Medium spiced, thick curry cooked with fenugreek leaves
Medium
£8.50
Methi Chicken Wings
Medium spiced, thick curry cooked with fenugreek leaves
Medium
£9.00
Methi Tandoori Lamb Chops
Medium spiced, thick curry cooked with fenugreek leaves
Medium
£10.50
Methi King Prawn
Medium spiced, thick curry cooked with fenugreek leaves
Medium
£11.50
Methi Fish Tikka
Medium spiced, thick curry cooked with fenugreek leaves
Medium
£12.00
Methi Tandoori King Prawn
Medium spiced, thick curry cooked with fenugreek leaves
Medium
£13.00
Dopiaza Mixed Vegetable
Medium spiced, thick curry, heavily cooked with onions
Medium
£6.00
Dopiaza Specific Vegetable
Medium spiced, thick curry, heavily cooked with onions
Medium
£6.00
Dopiaza Chicken
Medium spiced, thick curry, heavily cooked with onions
Medium
£7.50
Dopiaza Lamb
Medium spiced, thick curry, heavily cooked with onions
Medium
£7.50
Dopiaza Paneer
Medium spiced, thick curry, heavily cooked with onions
Medium
£7.50
Dopiaza Prawn
Medium spiced, thick curry, heavily cooked with onions
Medium
£7.50
Dopiaza Tandoori Chicken
Medium spiced, thick curry, heavily cooked with onions
Medium
£7.50
Dopiaza Chicken Tikka
Medium spiced, thick curry, heavily cooked with onions
Medium
£8.50
Dopiaza Lamb Tikka
Medium spiced, thick curry, heavily cooked with onions
Medium
£8.50
Dopiaza Paneer Tikka
Medium spiced, thick curry, heavily cooked with onions
Medium
£8.50
Dopiaza Chicken Wings
Medium spiced, thick curry, heavily cooked with onions
Medium
£9.00
Dopiaza Tandoori Lamb Chops
Medium spiced, thick curry, heavily cooked with onions
Medium
£10.50
Dopiaza King Prawn
Medium spiced, thick curry, heavily cooked with onions
Medium
£11.50
Dopiaza Fish Tikka
Medium spiced, thick curry, heavily cooked with onions
Medium
£12.00
Dopiaza Tandoori King Prawn
Medium spiced, thick curry, heavily cooked with onions
Medium
£13.00
Rogan Josh Mixed Vegetable
Medium spiced, thick curry cooked with fried tomatoes
Medium
£6.00
Rogan Josh Specific Vegetable
Medium spiced, thick curry cooked with fried tomatoes
Medium
£6.00
Rogan Josh Chicken
Medium spiced, thick curry cooked with fried tomatoes
Medium
£7.50
Rogan Josh Lamb
Medium spiced, thick curry cooked with fried tomatoes
Medium
£7.50
Rogan Josh Paneer
Medium spiced, thick curry cooked with fried tomatoes
Medium
£7.50
Rogan Josh Prawn
Medium spiced, thick curry cooked with fried tomatoes
Medium
£7.50
Rogan Josh Tandoori Chicken
Medium spiced, thick curry cooked with fried tomatoes
Medium
£7.50
Rogan Josh Chicken Tikka
Medium spiced, thick curry cooked with fried tomatoes
Medium
£8.50
Rogan Josh Lamb Tikka
Medium spiced, thick curry cooked with fried tomatoes
Medium
£8.50
Rogan Josh Paneer Tikka
Medium spiced, thick curry cooked with fried tomatoes
Medium
£8.50
Rogan Josh Chicken Wings
Medium spiced, thick curry cooked with fried tomatoes
Medium
£9.00
Rogan Josh Tandoori Lamb Chops
Medium spiced, thick curry cooked with fried tomatoes
Medium
£10.50
Rogan Josh King Prawn
Medium spiced, thick curry cooked with fried tomatoes
Medium
£11.50
Rogan Josh Fish Tikka
Medium spiced, thick curry cooked with fried tomatoes
Medium
£12.00
Rogan Josh Tandoori King Prawn
Medium spiced, thick curry cooked with fried tomatoes
Medium
£13.00
Al-Amin Balti Mixed Vegetable
A very saucy curry cooked with balti paste creating a sour, tangy taste
Spicy
£6.00
Al-Amin Balti Specific Vegetable
A very saucy curry cooked with balti paste creating a sour, tangy taste
Spicy
£6.00
Al-Amin Balti Chicken
A very saucy curry cooked with balti paste creating a sour, tangy taste
Spicy
£7.50
Al-Amin Balti Lamb
A very saucy curry cooked with balti paste creating a sour, tangy taste
Spicy
£7.50
Al-Amin Balti Paneer
A very saucy curry cooked with balti paste creating a sour, tangy taste
Spicy
£7.50
Al-Amin Balti Prawn
A very saucy curry cooked with balti paste creating a sour, tangy taste
Spicy
£7.50
Al-Amin Balti Tandoori Chicken
A very saucy curry cooked with balti paste creating a sour, tangy taste
Spicy
£7.50
Al-Amin Balti Chicken Tikka
A very saucy curry cooked with balti paste creating a sour, tangy taste
Spicy
£8.50
Al-Amin Balti Lamb Tikka
A very saucy curry cooked with balti paste creating a sour, tangy taste
Spicy
£8.50
Al-Amin Balti Paneer Tikka
A very saucy curry cooked with balti paste creating a sour, tangy taste
Spicy
£8.50
Al-Amin Balti Chicken Wings
A very saucy curry cooked with balti paste creating a sour, tangy taste
Spicy
£9.00
Al-Amin Balti Tandoori Lamb Chops
A very saucy curry cooked with balti paste creating a sour, tangy taste
Spicy
£10.50
Al-Amin Balti King Prawn
A very saucy curry cooked with balti paste creating a sour, tangy taste
Spicy
£11.50
Al-Amin Balti Fish Tikka
A very saucy curry cooked with balti paste creating a sour, tangy taste
Spicy
£12.00
Al-Amin Balti Tandoori King Prawn
A very saucy curry cooked with balti paste creating a sour, tangy taste
Spicy
£13.00
Pistachio Masala Mixed Vegetable
Sweet & spicy dish cooked with coconut, cream & pistachio nuts
spicy
£6.00
Pistachio Masala Specific Vegetable
Sweet & spicy dish cooked with coconut, cream & pistachio nuts
spicy
£6.00
Pistachio Masala Chicken
Sweet & spicy dish cooked with coconut, cream & pistachio nuts
spicy
£7.50
Pistachio Masala Lamb
Sweet & spicy dish cooked with coconut, cream & pistachio nuts
spicy
£7.50
Pistachio Masala Paneer
Sweet & spicy dish cooked with coconut, cream & pistachio nuts
spicy
£7.50
Pistachio Masala Prawn
Sweet & spicy dish cooked with coconut, cream & pistachio nuts
spicy
£7.50
Pistachio Masala Tandoori Chicken
Sweet & spicy dish cooked with coconut, cream & pistachio nuts
spicy
£7.50
Pistachio Masala Chicken Tikka
Sweet & spicy dish cooked with coconut, cream & pistachio nuts
spicy
£8.50
Pistachio Masala Lamb Tikka
Sweet & spicy dish cooked with coconut, cream & pistachio nuts
spicy
£8.50
Pistachio Masala Paneer Tikka
Sweet & spicy dish cooked with coconut, cream & pistachio nuts
spicy
£8.50
Pistachio Masala Chicken Wings
Sweet & spicy dish cooked with coconut, cream & pistachio nuts
spicy
£9.00
Pistachio Masala Tandoori Lamb Chops
Sweet & spicy dish cooked with coconut, cream & pistachio nuts
spicy
£10.50
Pistachio Masala King Prawn
Sweet & spicy dish cooked with coconut, cream & pistachio nuts
spicy
£11.50
Pistachio Masala Fish Tikka
Sweet & spicy dish cooked with coconut, cream & pistachio nuts
spicy
£12.00
Pistachio Masala Tandoori King Prawn
Sweet & spicy dish cooked with coconut, cream & pistachio nuts
spicy
£13.00
Makhani Mixed Vegetable
Highly spiced, thick curry cooked with green chilli, green pepper, topped with coriander leaves
Hot
£6.00
Makhani Specific Vegetable
Highly spiced, thick curry cooked with green chilli, green pepper, topped with coriander leaves
Hot
£6.00
Makhani Chicken
Highly spiced, thick curry cooked with green chilli, green pepper, topped with coriander leaves
Hot
£7.50
Makhani Lamb
Highly spiced, thick curry cooked with green chilli, green pepper, topped with coriander leaves
Hot
£7.50
Makhani Paneer
Highly spiced, thick curry cooked with green chilli, green pepper, topped with coriander leaves
Hot
£7.50
Makhani Prawn
Highly spiced, thick curry cooked with green chilli, green pepper, topped with coriander leaves
Hot
£7.50
Makhani Tandoori Chicken
Highly spiced, thick curry cooked with green chilli, green pepper, topped with coriander leaves
Hot
£7.50
Makhani Chicken Tikka
Highly spiced, thick curry cooked with green chilli, green pepper, topped with coriander leaves
Hot
£8.50
Makhani Lamb Tikka
Highly spiced, thick curry cooked with green chilli, green pepper, topped with coriander leaves
Hot
£8.50
Makhani Paneer Tikka
Highly spiced, thick curry cooked with green chilli, green pepper, topped with coriander leaves
Hot
£8.50
Makhani Chicken Wings
Highly spiced, thick curry cooked with green chilli, green pepper, topped with coriander leaves
Hot
£9.00
Makhani Tandoori Lamb Chops
Highly spiced, thick curry cooked with green chilli, green pepper, topped with coriander leaves
Hot
£10.50
Makhani King Prawn
Highly spiced, thick curry cooked with green chilli, green pepper, topped with coriander leaves
Hot
£11.50
Makhani Fish Tikka
Highly spiced, thick curry cooked with green chilli, green pepper, topped with coriander leaves
Hot
£12.00
Makhani Tandoori King Prawn
Highly spiced, thick curry cooked with green chilli, green pepper, topped with coriander leaves
Hot
£13.00
Shahi Mixed Vegetable
Highly spiced, saucy curry cooked with green chilli, green pepper & tomato, topped with coriander leaves
Hot
£6.00
Shahi Specific Vegetable
Highly spiced, saucy curry cooked with green chilli, green pepper & tomato, topped with coriander leaves
Hot
£6.00
Shahi Chicken
Highly spiced, saucy curry cooked with green chilli, green pepper & tomato, topped with coriander leaves
Hot
£7.50
Shahi Lamb
Highly spiced, saucy curry cooked with green chilli, green pepper & tomato, topped with coriander leaves
Hot
£7.50
Shahi Paneer
Highly spiced, saucy curry cooked with green chilli, green pepper & tomato, topped with coriander leaves
Hot
£7.50
Shahi Prawn
Highly spiced, saucy curry cooked with green chilli, green pepper & tomato, topped with coriander leaves
Hot
£7.50
Shahi Tandoori Chicken
Highly spiced, saucy curry cooked with green chilli, green pepper & tomato, topped with coriander leaves
Hot
£7.50
Shahi Chicken Tikka
Highly spiced, saucy curry cooked with green chilli, green pepper & tomato, topped with coriander leaves
Hot
£8.50
Shahi Lamb Tikka
Highly spiced, saucy curry cooked with green chilli, green pepper & tomato, topped with coriander leaves
Hot
£8.50
Shahi Paneer Tikka
Highly spiced, saucy curry cooked with green chilli, green pepper & tomato, topped with coriander leaves
Hot
£8.50
Shahi Chicken Wings
Highly spiced, saucy curry cooked with green chilli, green pepper & tomato, topped with coriander leaves
Hot
£9.00
Shahi Tandoori Lamb Chops
Highly spiced, saucy curry cooked with green chilli, green pepper & tomato, topped with coriander leaves
Hot
£10.50
Shahi King Prawn
Highly spiced, saucy curry cooked with green chilli, green pepper & tomato, topped with coriander leaves
Hot
£11.50
Shahi Fish Tikka
Highly spiced, saucy curry cooked with green chilli, green pepper & tomato, topped with coriander leaves
Hot
£12.00
Shahi Tandoori King Prawn
Highly spiced, saucy curry cooked with green chilli, green pepper & tomato, topped with coriander leaves
Hot
£13.00
Jalfrezi Mixed Vegetable
Bangladeshi style curry cooked with green chilli, green, red & yellow peppers mixed with a touch of naga sauce
Hot
£6.00
Jalfrezi Specific Vegetable
Bangladeshi style curry cooked with green chilli, green, red & yellow peppers mixed with a touch of naga sauce
Hot
£6.00
Jalfrezi Chicken
Bangladeshi style curry cooked with green chilli, green, red & yellow peppers mixed with a touch of naga sauce
Hot
£7.50
Jalfrezi Lamb
Bangladeshi style curry cooked with green chilli, green, red & yellow peppers mixed with a touch of naga sauce
Hot
£7.50
Jalfrezi Paneer
Bangladeshi style curry cooked with green chilli, green, red & yellow peppers mixed with a touch of naga sauce
Hot
£7.50
Jalfrezi Prawn
Bangladeshi style curry cooked with green chilli, green, red & yellow peppers mixed with a touch of naga sauce
Hot
£7.50
Jalfrezi Tandoori Chicken
Bangladeshi style curry cooked with green chilli, green, red & yellow peppers mixed with a touch of naga sauce
Hot
£7.50
Jalfrezi Chicken Tikka
Bangladeshi style curry cooked with green chilli, green, red & yellow peppers mixed with a touch of naga sauce
Hot
£8.50
Jalfrezi Lamb Tikka
Bangladeshi style curry cooked with green chilli, green, red & yellow peppers mixed with a touch of naga sauce
Hot
£8.50
Jalfrezi Paneer Tikka
Bangladeshi style curry cooked with green chilli, green, red & yellow peppers mixed with a touch of naga sauce
Hot
£8.50
Jalfrezi Chicken Wings
Bangladeshi style curry cooked with green chilli, green, red & yellow peppers mixed with a touch of naga sauce
Hot
£9.00
Jalfrezi Tandoori Lamb Chops
Bangladeshi style curry cooked with green chilli, green, red & yellow peppers mixed with a touch of naga sauce
Hot
£10.50
Jalfrezi King Prawn
Bangladeshi style curry cooked with green chilli, green, red & yellow peppers mixed with a touch of naga sauce
Hot
£11.50
Jalfrezi Fish Tikka
Bangladeshi style curry cooked with green chilli, green, red & yellow peppers mixed with a touch of naga sauce
Hot
£12.00
Jalfrezi Tandoori King Prawn
Bangladeshi style curry cooked with green chilli, green, red & yellow peppers mixed with a touch of naga sauce
Hot
£13.00
Madras Mixed Vegetable
Hot curry, red in colour, with use of chilli powder
Hot
£6.00
Madras Specific Vegetable
Hot curry, red in colour, with use of chilli powder
Hot
£6.00
Madras Chicken
Hot curry, red in colour, with use of chilli powder
Hot
£7.50
Madras Lamb
Hot curry, red in colour, with use of chilli powder
Hot
£7.50
Madras Paneer
Hot curry, red in colour, with use of chilli powder
Hot
£7.50
Madras Prawn
Hot curry, red in colour, with use of chilli powder
Hot
£7.50
Madras Tandoori Chicken
Hot curry, red in colour, with use of chilli powder
Hot
£7.50
Madras Chicken Tikka
Hot curry, red in colour, with use of chilli powder
Hot
£8.50
Madras Lamb Tikka
Hot curry, red in colour, with use of chilli powder
Hot
£8.50
Madras Paneer Tikka
Hot curry, red in colour, with use of chilli powder
Hot
£8.50
Madras Chicken Wings
Hot curry, red in colour, with use of chilli powder
Hot
£9.00
Madras Tandoori Lamb Chops
Hot curry, red in colour, with use of chilli powder
Hot
£10.50
Madras King Prawn
Hot curry, red in colour, with use of chilli powder
Hot
£11.50
Madras Fish Tikka
Hot curry, red in colour, with use of chilli powder
Hot
£12.00
Madras Tandoori King Prawn
Hot curry, red in colour, with use of chilli powder
Hot
£13.00
Vindaloo Mixed Vegetable
Popular in the region of Goa, very spicy dish cooked with heavy use of chilli powder. Served with a slice of potato
Flaming
£6.00
Vindaloo Specific Vegetable
Popular in the region of Goa, very spicy dish cooked with heavy use of chilli powder. Served with a slice of potato
Flaming
£6.00
Vindaloo Chicken
Popular in the region of Goa, very spicy dish cooked with heavy use of chilli powder. Served with a slice of potato
Flaming
£7.50
Vindaloo Lamb
Popular in the region of Goa, very spicy dish cooked with heavy use of chilli powder. Served with a slice of potato
Flaming
£7.50
Vindaloo Paneer
Popular in the region of Goa, very spicy dish cooked with heavy use of chilli powder. Served with a slice of potato
Flaming
£7.50
Vindaloo Prawn
Popular in the region of Goa, very spicy dish cooked with heavy use of chilli powder. Served with a slice of potato
Flaming
£7.50
Vindaloo Tandoori Chicken
Popular in the region of Goa, very spicy dish cooked with heavy use of chilli powder. Served with a slice of potato
Flaming
£7.50
Vindaloo Chicken Tikka
Popular in the region of Goa, very spicy dish cooked with heavy use of chilli powder. Served with a slice of potato
Flaming
£8.50
Vindaloo Lamb Tikka
Popular in the region of Goa, very spicy dish cooked with heavy use of chilli powder. Served with a slice of potato
Flaming
£8.50
Vindaloo Paneer Tikka
Popular in the region of Goa, very spicy dish cooked with heavy use of chilli powder. Served with a slice of potato
Flaming
£8.50
Vindaloo Chicken Wings
Popular in the region of Goa, very spicy dish cooked with heavy use of chilli powder. Served with a slice of potato
Flaming
£9.00
Vindaloo Tandoori Lamb Chops
Popular in the region of Goa, very spicy dish cooked with heavy use of chilli powder. Served with a slice of potato
Flaming
£10.50
Vindaloo King Prawn
Popular in the region of Goa, very spicy dish cooked with heavy use of chilli powder. Served with a slice of potato
Flaming
£11.50
Vindaloo Fish Tikka
Popular in the region of Goa, very spicy dish cooked with heavy use of chilli powder. Served with a slice of potato
Flaming
£12.00
Vindaloo Tandoori King Prawn
Popular in the region of Goa, very spicy dish cooked with heavy use of chilli powder. Served with a slice of potato
Flaming
£13.00
Mixed Vegetable Curry
Medium
£3.50
Brinjal Bhaji
Aubergine or eggplant
Medium
£3.50
Gobi Bhaji
Cauliflower
Medium
£3.50
Saag Bhaji
Spinach
Medium
£3.50
Mattar Paneer
Peas with cheese
Medium
£3.50
Bombay Aloo
Potato
Medium
£3.50
Tarka Daal
Lentils
Medium
£3.50
Chana Masala
Chickpeas
Medium
£3.50
Special Rice
With egg or keema
£3.50
Vegetarian Rice Coconut
With:
£3.50
Vegetarian Rice Garlic
With:
£3.50
Vegetarian Rice Lemon
With:
£3.50
Vegetarian Rice Mushroom
With:
£3.50
Vegetarian Rice Onion
With:
£3.50
Vegetarian Rice Peas
With:
£3.50
Vegetarian Rice Vegetable
With:
£3.50
Vegetarian Naan Cheese
With:
£2.50
Vegetarian Naan Chilli
With:
£2.50
Vegetarian Naan Garlic
With:
£2.50
Vegetarian Naan Peshwari
With:
£2.50
Vegetarian Naan Vegetable
With:
£2.50
Stuffed Paratha Aloo
With:
£2.20
Stuffed Paratha Keema
With:
£2.20
Stuffed Paratha Vegetable
With:
£2.20
Poppadoms (2) Fried Plain Crisps
Fried plain or masala crisps complimented with a mango chutney
£2.00
Poppadoms (2) Masala Crisps
Fried plain or masala crisps complimented with a mango chutney
£2.00
Dahi Ki Chutney Cucumber Raita
£2.20
Dahi Ki Chutney Onion Raita
£2.20
Dahi Ki Chutney Plain Raita
£2.20
Dahi Ki Chutney Tomato Raita
£2.20
Selection of Dips
Mango Chutney, Lime Pickle, Chilli pickle, Onion Salad & Mint Sauce
£1.00
Al-Amin Balti Sauce
Spicy
£2.70
Pistachio Masala Sauce
Spicy
£2.70
Contact Us
Find Us
483 Cambridge Heath Road, London, E29BU
We deliver to
E1, E2, E3, E5, E8, E9, N1